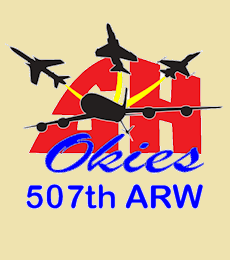 ||• The United States Air Force Reserve's 507th Tactical Fighter Group was established at Tinker Air Force Base near Oklahoma City, Oklahoma in 1972 flying the F-105 'Thunder Chief'. In 1980 they converted to F-4D 'Phantoms' and then to F-16A 'Falcons' in 1988. The Air Force again changed the unit's mission and aircraft in 1994 when they became the 507th Aerial Refueling Wing and began flying the Boeing KC-135R StratoTanker.
||• Utilizing either boom or drogue refueling methods the KC-135R can deliver over 150,000 pounds of jet fuel in less than 25 minutes to U.S. & Allied Military Aircraft.
||• Boeing originally built 732 KC-135 StratoTankers for the U.S. Air Force of which 407 remain in service today - over 50 years later.
||• Combined with the KC-135R model's ability to carry over 80,000 pounds of cargo, the 507th ARW fast became an integral part of the USAF Air Mobility Commands Global Reach Missions.



StratoTanking • • •

---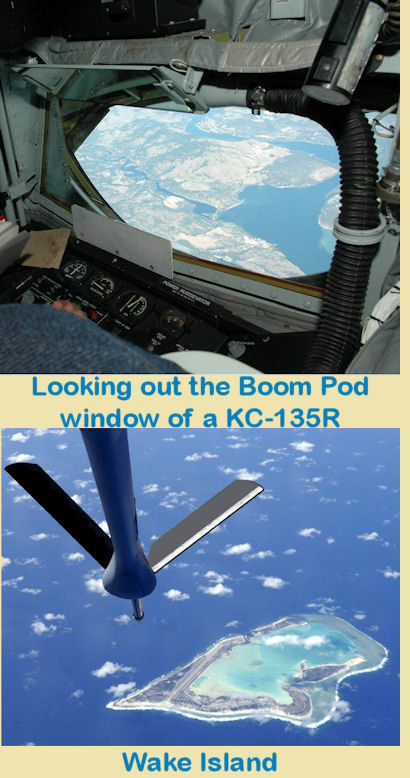 • • •(strat-oh-tank-in')(noun) Seeing The World Through Small Heated Windows while traveling around the globe in a Boeing built KC-135R StratoTanker designed for in-flight refueling of military aircraft while fulfilling the United States Air Force mission of Global Vigilance, Global Reach and Global Power for America as the United States Air Force 'flies, fights and wins … in air, space and cyberspace'.
Air and Space Superiority
U.S. and Allied forces can dominate enemy operations in all dimensions: land, sea, air and space by utilizing the tactics of: Global Attack
Because of technological advances, the Air Force can attack anywhere, anytime and do so quickly and with greater precision than ever before.
Rapid Global Mobility
Being able to respond quickly and decisively anywhere we're needed is key to maintaining rapid global mobility.
Precision Engagement
The essence lies in the ability to apply selective force against specific targets because the nature and variety of future contingencies demand both precise and reliable use of military power with minimal risk and collateral damage.

Deployment and sustainment are keys to successful operations and cannot be separated. Agile combat support applies to all forces, from those permanently based to contingency buildups to expeditionary forces.
Core Values
The Air Force bases these core competencies and distinctive capabilities on a shared commitment to three values:
Integrity first, Service before self, and Excellence in all we do• • •


• • • In other words ~ Nobody Kicks Ass Without Tanker Gas! ~ NOBODY!
---
||• Photo Galleries:
☛ N.K.A.W.T.G.-N! ☚
☛ TANKERS ☚



☛ The 507th Air Refueling Wing - Tinker AFB Oklahoma ☚

☛ The History Of In-Flight Refueling ☚

☛ The KC-135R StratoTanker ☚

☛ The KC-10 Extender ☚

Bob's Bulletin Board
☮ If You Can't Keep Up ~ Take Notes! ☮
Page Created: July 27, 2012