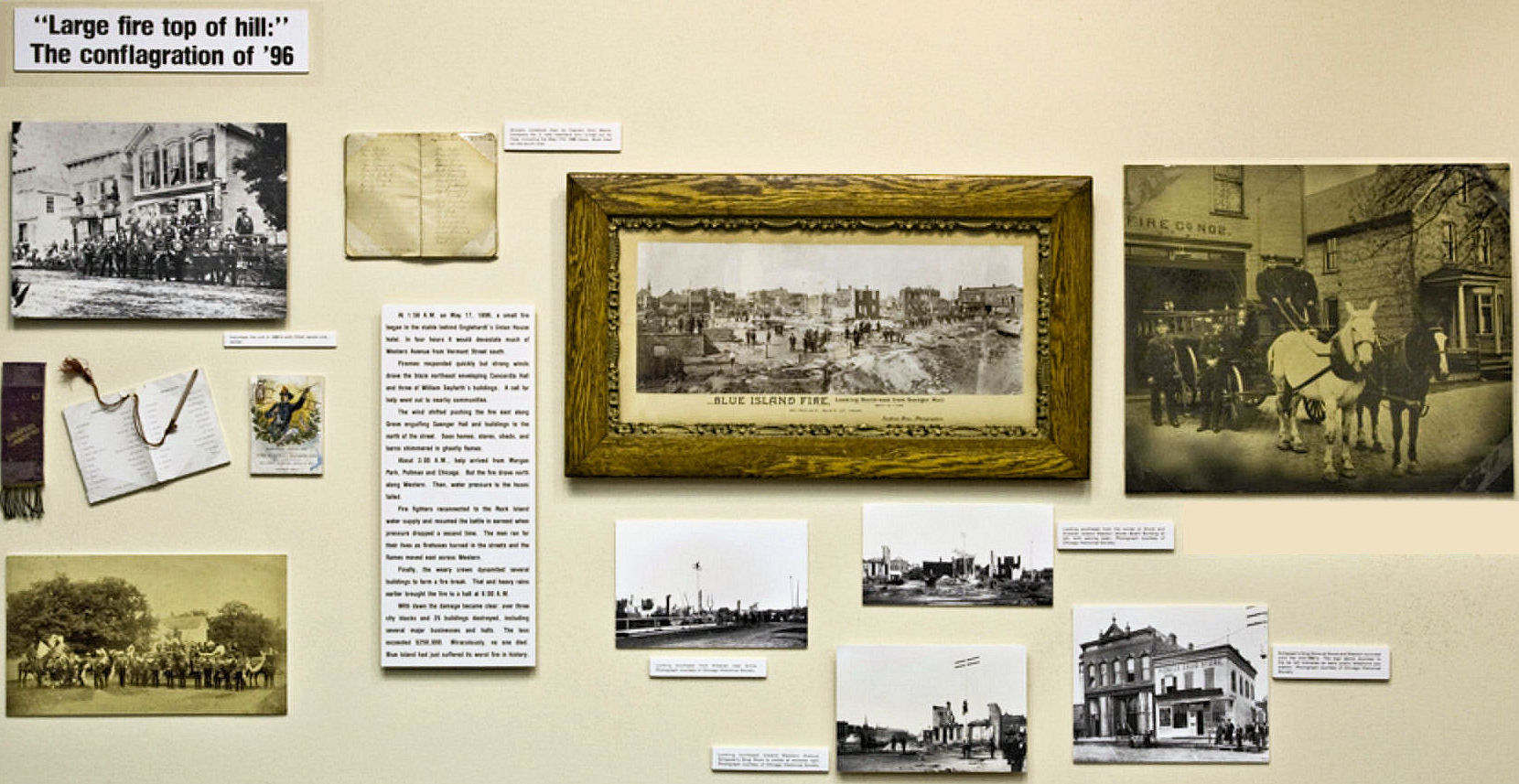 Western Avenue Fire Of 1896
History Exhibit #18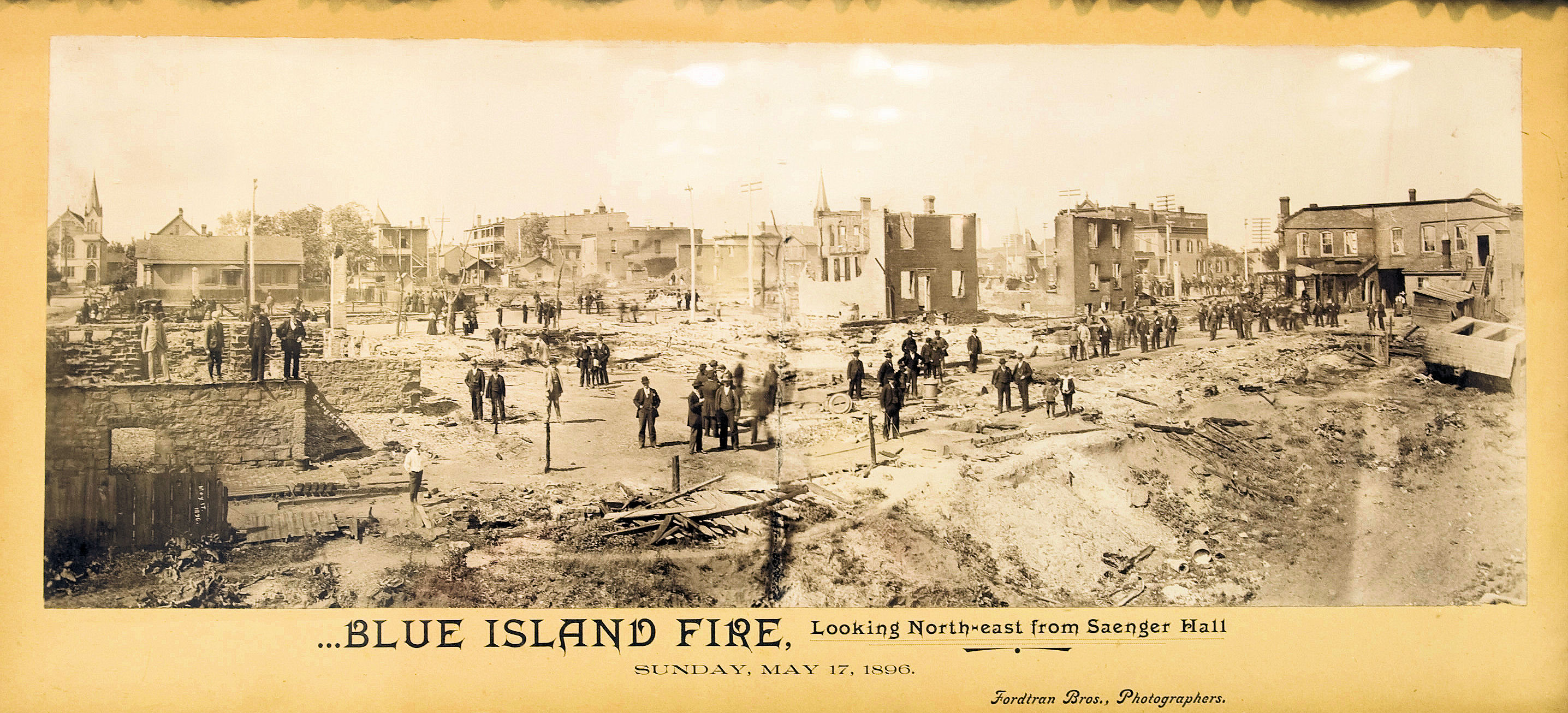 At 1:58 A.M. on May 17, 1896, a small fire began in the stable behind Englehardt's Union House hotel. In four hours it would devastate much of Western Avenue from Vermont south.
Firemen responded quickly but strong winds drove the blaze northeast enveloping Concordia Hall and three of William Seyfarth's buildings. A call for help went out to nearby communities.
The wind shifted pushing the fire east along Grove engulfing Saenger Hall and buildings to the north of the street. Soon homes, stores, sheds, and barns shimmered in ghastly flames.
About 3 A.M., help arrived from Morgan Park, Pullman and Chicago. But the fire drove north along Western. Then, water pressure to the hoses failed.
Fire fighters reconnected to the Rock Island water supply and resumed the battle in earnest when pressure dropped a second time. The men ran for their lives as firehoses burned in the streets and the flames moved east across Western.
Finally, the weary crews dynamited several buildings to form a fire break. That and heavy rains earlier brought the fire to a halt at 6:00 A.M.
With dawn the damage became clear: over three city blocks and 25 buildings destroyed, including several major businesses and halls. The loss exceeded $250,000. Miraculously, no one died. Blue Island had just suffered its worst fire in history.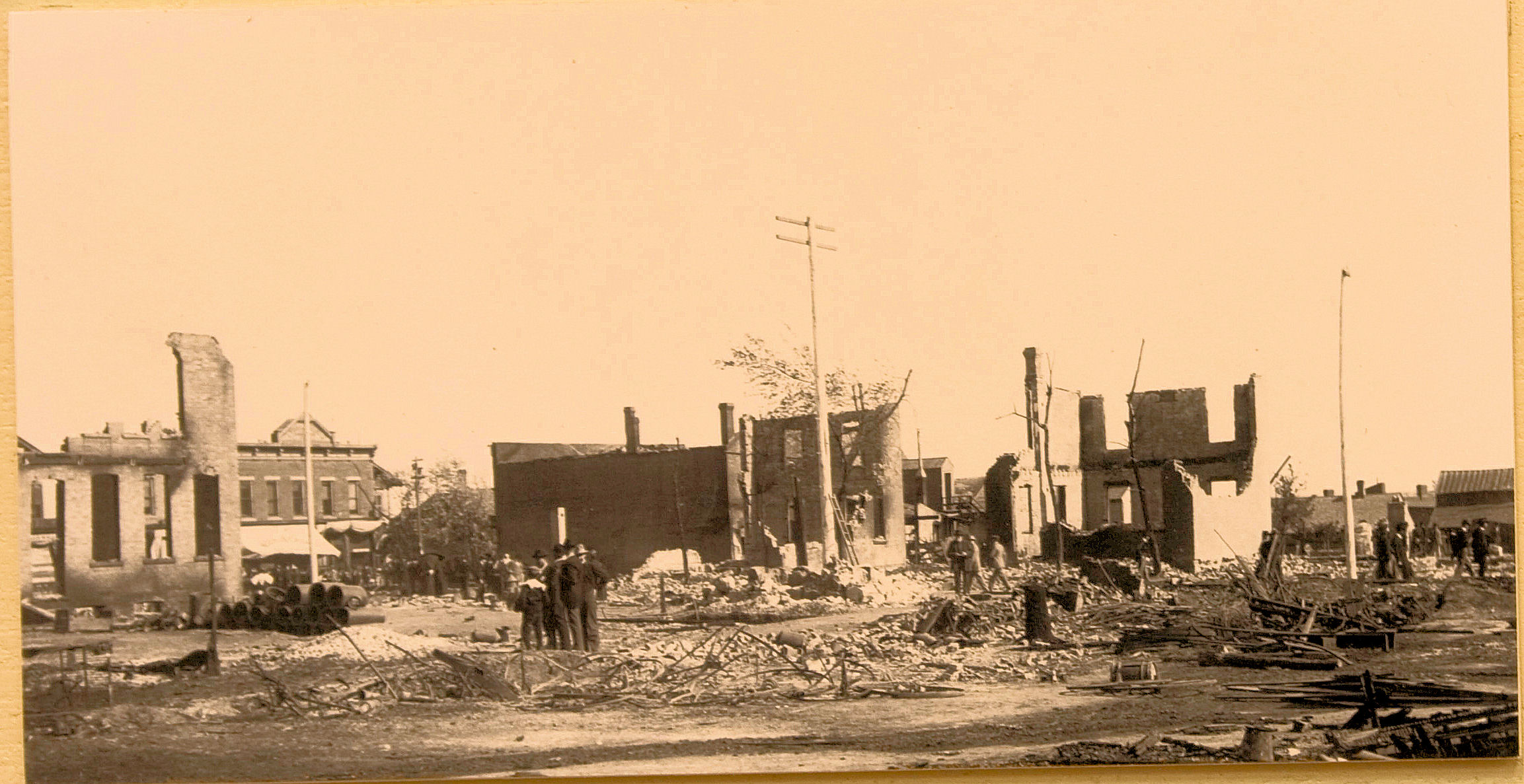 Looking southeast from the corner of Grove and Artesian toward Western shows Boehl Building at left, with awning open. Photograph courtesy of Chicago Historical Society.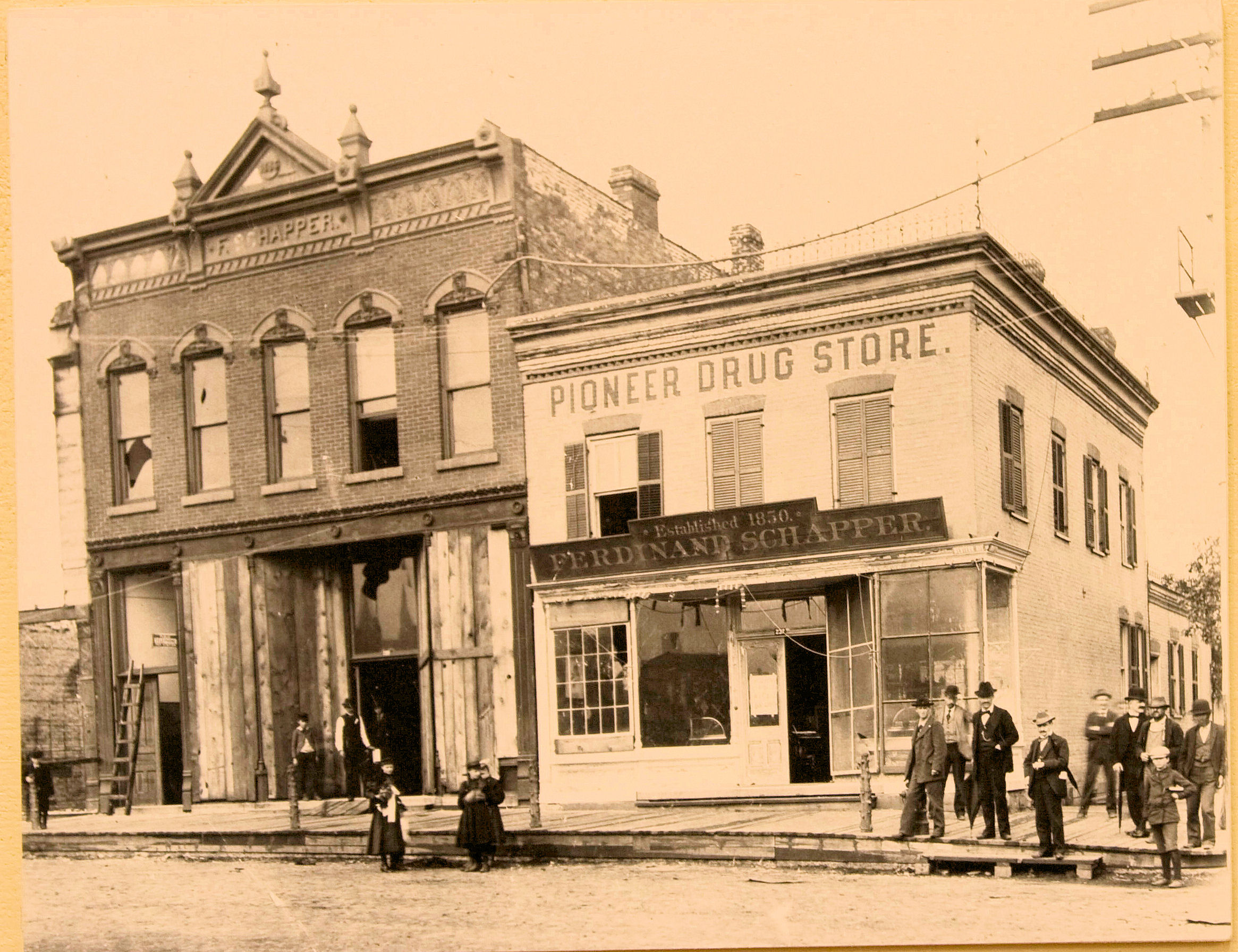 Schappers's Drug Store at Grove and Western survived until the mid-1960's. The sign above doorway to the far left indicates an early public telephone pay station. Photograph courtesy of Chicago Historical Society.
Looking northeast toward Western Avenue. Schapper's Drug Store is visible at extreme right. Photograph courtesy of Chicago Historical Society.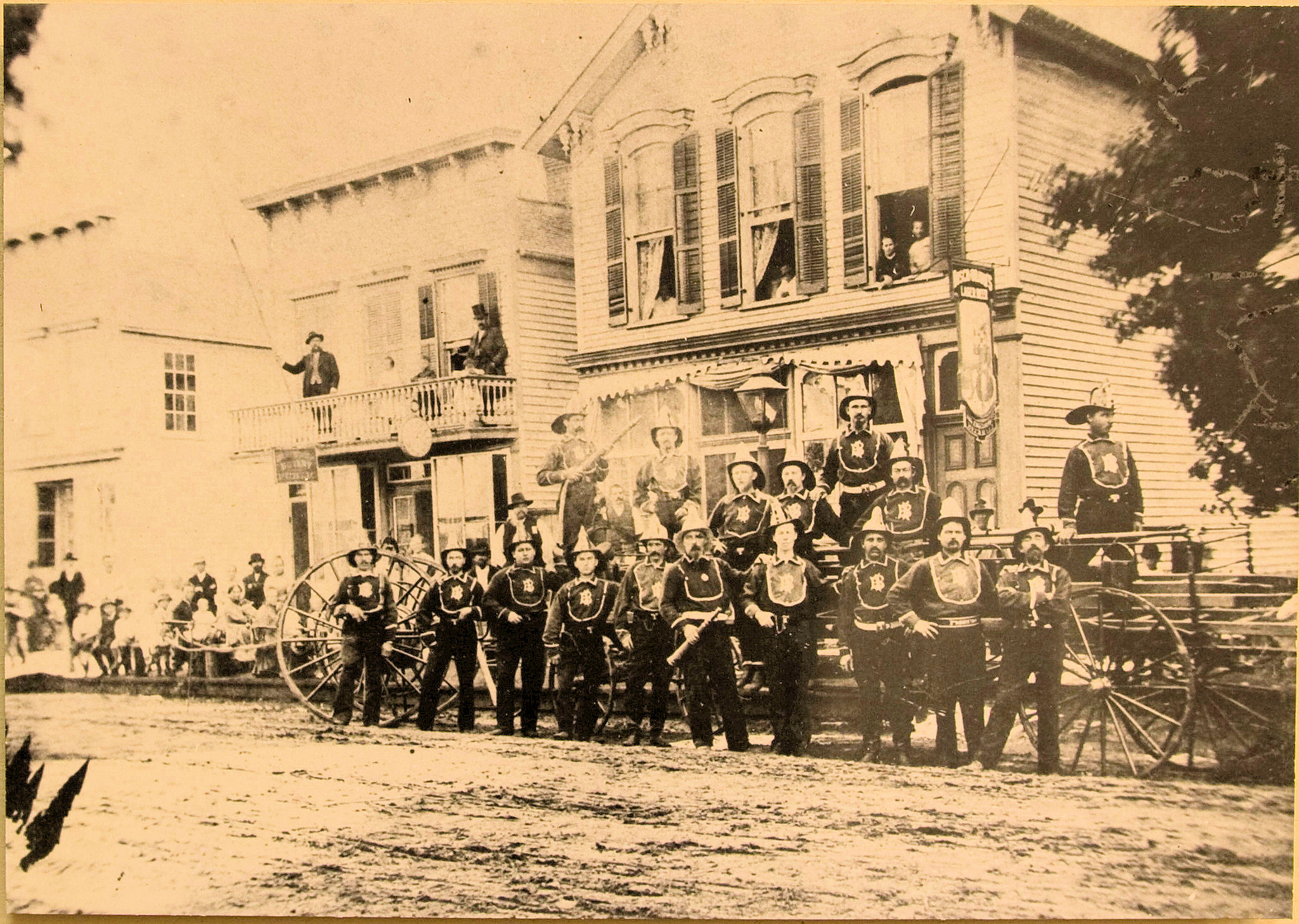 Blue Island Fire Department 1896 First row, L to R: First two men unidentified, Carl Brand, Nick Behrens, Henry Neibert, Jacob Link, George Mecklenburg, George Englehardt, Fred Hohmann, Christ Peters. Second row: Henry Gantry, Louis Luchtemeyer, John Clausen, Matt Helberg, William Schreiber, Albert Driese, Fred Landgreaf.