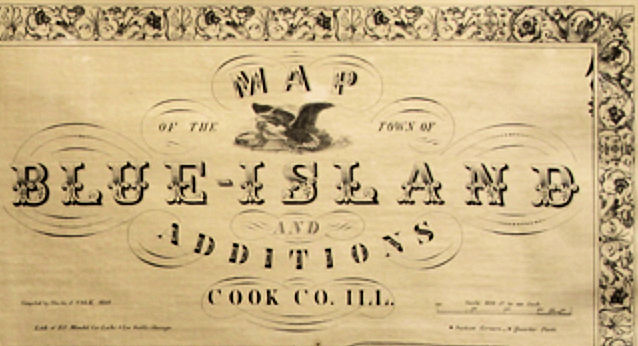 Charles Volk platted Blue Island in 1858. His map shows the location of local breweries, schoolhouse, and Ellfeldt's Lustgarten (picnic grounds). The accompanying narrative provides an early example of Blue Island civic pride.

---
The Town of Blue Island
Is situated partly on the southern extremity of a high ridge covered mostly with timber and partly on the adjacent prairie. It is sixteen miles from Chicago on the Chicago and Rock Island Rail Road. It has water communication with Lake Michigan by means of the Calument River and also with Chicago by a branch Canal. It is seven miles distant from the Lake and nine from the main Canal. Contiguous to the River andCanal are extensive brick-yards and stone quarries, which contain building materials of the finest quality. There is an excellent water Power affording good opportunities for mills and manufacteries. The place numbers at present about Two Thousand inhabitants. It has four breweries in operation and several others are contemplated as the location affording peculiar advantages for cellars. Also six stores, two lumber yards, one church, and a fine Public School House. The place is remarkably healthy and situated as it is, so near the Empire City of the West, it holds out many inducements to those who wish to invest capital and offers many advantages to those who are seeking for a pleasant location for homes.
---